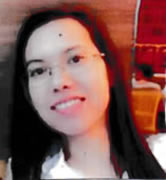 I am Vanessa G. Layacan 31 years old, born on November 9, 1984. I live in SitioAgtas , San Juan, San Carlos City, Pangasinan . I am single and the second child of 6 children of Leo S Layacan and Erlinda G Layacan. I have 2 sisters and 2 brothers. I graduated the degree of Bachelor in Elementary Education. I am honest, God fearing, trustworthy and flexible.
With my working experience, I have worked in the Philippines as a clerk but due to low income it can't help with my family's needs. In order to help my sibling's studies, I decided to work in Damascus Syria as a domestic helper for a matter of 3 years serving 3 adults and looking after of children.
Leaving my family has been a tough decision for me especially being in a foreign country. Sooner I was able to overcome my homesickness and abide with my objective in helping my family back home, I was able to adjust and survived. But due to the existing war in Syria, I did not renew my working contract and my parents has urged me to come home because they were so scared of what will happen to me in a war zone country like Syria.
I've worked in Hong Kong for 2 years with my first employer. I was serving 2 adults and taking care of 4 months baby. After 8 months of working with them my employer got pregnant for the second time. After the 2 years completion of my contract, I decided to move to another employer and I am working with them for already 1 year taking care of a 6 year old girl.
Working in different country like Syria and Hong Kong is very comparable but with the same nature of job as a caregiver. It helps a lot in developing my personality to be a better person, becoming more matured, courageous, full of confidence, independent and a very strong person to handle myself in a very careful manner.
Working as a Nanny/domestic helper, I learned each country's culture and was able to learn many things especially in cooking Chinese food, western cuisine, baking, which could greatly be useful in my future endeavors in Canada in case an employer will hire me. My application to Canada is very important to me and my family and I am very hopeful that my application will merit your kind consideration.
Thank you very much.
Yours truly,
Vanessa Garcia Layacan