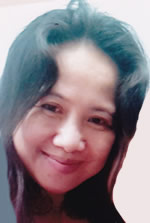 I am Evelyn Fabros, 44 years old, and a single parent to a 10 year old child and a native of Catarman, Condon City in the northern part of the Philippines. We are 5 sibling composing of 3 sisters and 2 brothers who are both living in our province in Ilocos Sur.
As a person, I am energetic, friendly and caring. I love sports and listening to variety kind of music during my spare moments. I am Third Year College in Education and was not able to get a degree due to financial limitation as my parents were only dependent on farming as the main source of income.
As to my working experience, I had been working in Taiwan for 5 years from 1998 to 2003 as a nanny to 2 children ages 1 and 2.
They are wonderful children and being with them for longer years, I've learned to love them and treated them as my own. After five years of continuous service, I went home to the Philippines to be with my family. However life has been so difficult without any income and raising my only child was a challenge for this matter.
I started working here in Hong Kong from July 2010 up to the present with 3 employers. With my first employer, I looked after an elderly 82 years old and at the same time doing general household chores. After the completion of my 2-year contract, I was employed by another employer from August 2012 to 2014. I was doing all around household chores as well as taking care of 2 children ages1 and 3. After the completion of my 2 years contract with the second employer, I was then hired by another employer commencing from September 2014 up to the present. As usual, I am looking after a 5-year old girl. She is witty and sweet. We have good chemistry and we bond like any mother and daughter relationship. I am very fond of her. I am assisting her in everyday routine like sending and fetching from school and helping her on her homework's.
I am very grateful that I am continuing my journey in being a domestic helper here in Hong Kong with good and kind employers. However, I also dream of working in Canada to gain more experience and to learn other cultures. It is with my deep interest to work in an environment like Canada who has many things to offer. With my childcare/elderly experience, I know I am qualified to be with any family's trust as a caregiver and I will be happy to do the best out of me.
Thank you very much and more power.
Yours truly,
Evelyn Gallo Fabros