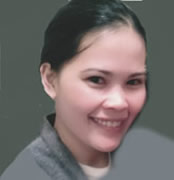 My name is Roselle C. I am 37 years old, a single mom with 2 beautiful daughters, Alyssa is 11 and Alexis is 9 years old, I belong to a small family of 4. My father is Rodrigo 61 years old, my mother is Aida (58) and my only brother is Rex 39 years old. I have finished my vocational college for a 3 years course.
I am honest, hardworking, diligent, trustworthy and God-fearing person. I am willing to learn new things that are new to me in order to improve my personality as well as the performance that I am giving to your family. I am a non-smoker and a CPR/First Aid certified.
I am looking for a nanny position in a domestic setting where l will be able to utilize my skills and capabilities using my hearted nature and compassionate care. I am an energetic and self-motivated person. I can be of great help to your family and flexible enough to understand all my duties based on my working situation as a caregiver/Nanny.
I am adaptable to my time management in handling everything pertaining to household and childcare. I am applying to work in Canada because I believe it is a friendly country that can help me in reaching my dream thus a big help to my family financially.
I started working in Hong Kong since 2012 up to the present. With my 5 years of experience as a nanny, my emotional connection with the child is very strong and treated her as my own. I have the time management skills to perform the general household chores while she is having a nap. As her constant companion, I feed her nutritious food, bathing and dressing her up, tutoring and playing her from time to time.
I would very much like to focus my skills and capacity by being a nanny in a private home and believe that I can provide your children with a happy and educational atmosphere. I am most hoping that my application will merit your kind consideration to hire me as your nanny/caregiver.
Yours truly,
Roselle C.