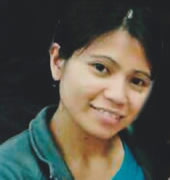 I am Jocelyn S., 32 years of age, single and born in South Cotabato, Philippines, I come from quite a big family of 11, I am the 3rd eldest among 9 siblings and being one of the eldest, I was instinctively responsible in taking care of our younger siblings.
I have been working with the same employer here in Hong Kong for a span of almost 3 years mainly taking care of their 4-year-old daughter, doing general household chores and cooking. My previous 2- year employment was with a couple and their 2 children aged 2 and 3 years old.
I love cooking and I'm always eager to learn new types of dishes. I am especially fascinated in baking cakes and making pastries, I am honest, friendly, dedicated and I always try my very best to provide the proper childcare needed. I am skilled in supervising and caring for children of any age such as bathing, getting them dressed, meal preparation and diaper changing.
I am very much aware in children's day to day activities and rest periods. My knowledge in teaching them good personal hygiene would bring positive change to the development of their growing minds.
I also love the outdoors and I know in Canada, there will be plenty of spaces to explore and enjoy being out in the open. I know that this new generation is more fixated on gadgets and online gaming. Thus, I can contribute better awareness for children to become more active socially and physically.
My diverse experience with children would enable me to bring significant difference in caring for your children. I hope that I am the right candidate for you to hire and it would be a great pleasure to be part of your family.
Thank you very much.
Jocelyn S.