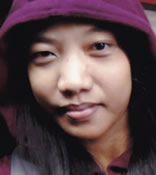 I am Mylen A., 31 years of age. I am the third siblings of Mr. Macario A. and Veronica A. comprising of one sister and three brothers. With regards to my family background I am proud to say that we have a happy family with all respect, love and trust each other. To describe my parents they are very kind and patient not only inside our family but to all people. We had been raised up with humility to love God above all things and thought us to be independent and always think positive.
I am hardworking person, resourceful and industrious, sincere and honest when it comes to work.
I am able to work in time pressure, able to do household chores and have the ability to handle patiently in taking care of a baby because I have a niece living with us since birth. I can do also executes other assignments or task whatever it is and finish work ahead of time.
With my educational background I finished Bachelor of Science in Agriculture major in Agronomy in the year 2006 but due to limited field of employment in our country. I was not able to apply and practiced what I have in stored. Instead, I worked as a sales lady at Kam's grocery Laoag city, Philippines manage by Chinese family for 2 years.
Because my salary was not enough for me and to help my family I applied as domestic helper in Dubai for 3 years then after that I came here in Hong Kong as domestic helper to Miss Wong Hoi Ling with more than 2 years of experience.
I took care of 12 years old Chinese boy. My duties and responsibilities include preparing meals to my employer's family comprising a particular food for dietary needs. My duties are washing clothes, marketing, ironing clothes and cleaning the house from November 2013 up to present.
I have a positive mind that I will have a bright future in going to Canada because I know that it is the best country in the word. I wish that with all my expectations I will be a part of your family and promise to do my duties and responsibilities to be a good helper. Thank you very much and may God bless you always.
Yours truly
Mylen A.