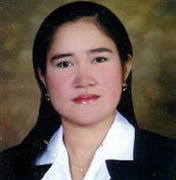 I am writing this letter to apply for the position of Caregiver. My name is Grace M.. I was born on January 4, 1980 at Poro Point, San Fernando La Union, Philippines. I am 36 years of age, single and a Christian/Roman Catholic. My parents are already in God's loving arms. I am the third child in the family and I have three sisters who are happily married.
My school days offered me a lot to learn. Subjects like science, mathematics and history were of special interest to me. In my spare time, I enjoy reading books and watching educational shows such as baking, cooking, and other health related or medical videos.
I love listening music too, because it helps me relax and makes my work smooth.
As to my educational background, I graduated with two major degrees. I finished my Bachelor of Science in Management degree at Don Mariano Marcos Memorial State University Mid La Union Campus ((DMMMSU-MLUC), San Fernando City, Philippines in April 2000. And in April 2007, I graduated with the degree Bachelor of Science in Nursing at Union Christian College (UCC), San Fernando City, La Union, Philippines. I took the Philippine Nursing Licensure Examination in December 1 & 2, 2007, and luckily I made it. And I attended the Intravenous Therapy Training Program for Nurses in April 24 to 26, 2008. Likewise, in December 9 and 10, 2008 I attended the Basic Life Support - CPR Training Program for Nurses. Furthermore, in April 13 to May 15, 2009 I joined the English Language Course offered at Technical Education and Skills Development Authority (TESDA), Philippines.
As to my work life, I experienced to work in a Hospital for six (6) months as a staff nurse. I also experienced working in a Rural Health Center Clinic for six (6) months as a volunteer staff nurse.
As of now, I am working as a Caregiver/Domestic helper (elderly care with disability) here in Hong Kong for 6 years and 11 months to be exact (January 28, 2010 to Present). My main duty here is to provide quality care to my employer (who is 69 years of age with Diabetes Mellitus, amputation of both legs, and in wheelchair bound). I am administering prescribed medications such as insulin injection, oral and topical medicines, and eye drops medicines. I'm assisting him in transferring from bed to wheelchair and vice versa. I'm accompanying him on his medical/hospital check- ups. I'm monitoring and recording his daily vital signs such as blood pressure, pulse rate, respiratory rate and body temperature. I'm also checking and recording his Capillary Blood Glucose (CBG) level before he will take his meal and 2 hours thereafter. In addition, I'm also monitoring his diet, output and input.
Furthermore, I do also the household chores such as cleaning the house, washing the dishes, laundering the clothes, marketing groceries, foods, and other necessary things that are needed in the house, preparing and cooking healthy foods, and maintaining a safe and healthy environment.
I would describe myself as a polite, reliable, honest, patient and diligent as seen from my past record. I have the passion for caring and serving elderly patient, and I enjoy the challenges of working in busy environments. Furthermore, my studies and experiences have taught me to be accurate and efficient in organizing my work so I would be a valuable employee/caregiver. And I do believe that a challenging environment such as Canada will provide an excellent opportunity for me to best utilize my skills and aspirations while contributing to the healthcare of the patient as well as the family that I will serve.
And I do believe that working hard to pursue such goals and keeping positive attitude are the qualities that help a person when required to maintain a level-head in times of success and failure. These are the tools which help a person overcome the toughest phases in life.
To my prospective employer, if you give me a chance to work with you I can assure you that I will do my very best, that I can be a great help to your family and give you what you expect in me as a caregiver. I am looking forward for the opportunity and will consider myself a lucky person if you hire me. Thank you very much.
Sincerely yours,
Grace M.